Walter Valentine Welsh also more commonly known as The Bear or Big Tommy Brown was an integral member of The Firm, who was a very well-built fighter.
He was a lifelong family friend of the twins and worked as a doorman for them at various clubs with Limehouse Willy.
Background
Edit
Tommy Brown came from Tottenham and was known as 'The Bear'. He was around 6'3" and carried powerful shoulders and was of Romani Gypsy heritage. His neck was nineteen inches thick and he had steel grey hair and blue eyes with an almost pugilist's nose. He earned his nickname from his sheer size and strength, and he was regarded as a fighting man in and out of the ring.
The Firm
Edit
Tommy was a main part of the Kray Firm and Reggie Kray regarded him as one of his closest friends during the 1960s. At every opportunity, Reggie and Brown would go to the backyard at 178 Valance Road and spar with boxing gloves. He allegedly lived in a caravan on a bomb site in Stepney, keeping lurchers and horses as company. He was present at the wedding between Reggie and Frances in 1965, and can be seen in the photos taken by David Bailey.
Brown had been a good professional heavyweight fighter and he usually assisted Reggie on the doors of the various clubs to keep order. His presence was a deterrent to would-be troublemakers who didn't fancy their chances against Brown in a fight.
Reggie once prevented him from breaking the singer, Billy Daniels jaw, after he became impertinent towards Brown. On one occasion at
The Double R Club
, a customer became rather raucous and disruptive. The Bear lifted him by his tie and swung him around the club.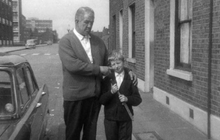 Tommy Brown was a very smart dresser, who dressed like a film star and played the part well. All the firm held him in high esteem and always referred to him as 'The Bear' or 'Big Tom'. The police once called upon Brown's Tottenham address to arrest him but before they succeeded in taking him in for questioning, he knocked out eleven officers, for which he then received two years in prison. He was living at Bruce Grove in Tottenham at the time of the twins arrest, and his brother helped remove carpets and bloodied furniture from
97 Evering Road
with his van, ready to be burnt.
Later life and death
Edit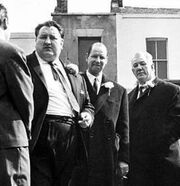 Not much is known about Brown after the Kray trial, keeping a low profile, he passed away in 1990.